What kind of flowers? Pink ones.... Okay, so the first two are true. The third is hopeful wishing that my darling hubby will bring me tulips tonight. Hey, its worth a try, right?

Anyways.. back to my story.. when I though today couldn't get any better ( since I have been dreaming of my website for over a year now) I got a call from a friend. This friend had bought a puppy, and then decided she really couldn't take care of it right now. Rewind a week ago when we baby sat the puppy for two days. Lexi Lou fell in love. And since the pup went home, Lex has been sad. Disheartened. Hasn't eaten and pretty much moped around. So I get a text last night. And I texted Ry. And today my Lexi has to be the happiest dog in the world. Her soulmate has returned! She's got a buddy! A best friend for life. And me? I'm pretty excited. The pup is super sweet and a total lap dog.

I'm content. I have a brilliant website. And two awesomely ugly-cute dogs. ( in case you don't know.. this is the phrase that describes the common knowledge that the uglier a dog is.. the cuter it is)

So without further ado ... meet the pup...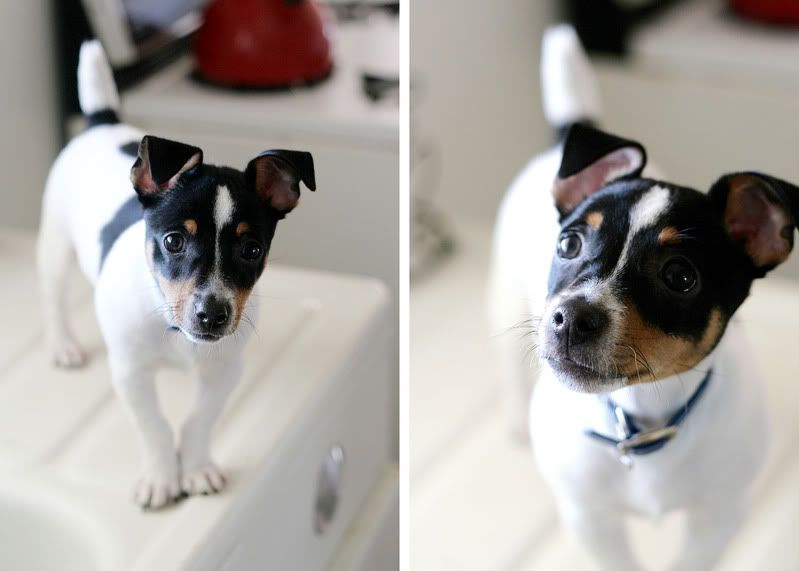 He will be about 8- 10 pounds. Is it bad if I don't feed him so he stays forever little? Kidding.... his current name is Montgomery. I'm thinking it may have to be changed to pickle. What do you think?